Teriyaki Agave Chili
Sale price Price $11.99 Regular price $11.99
100% Non-GMO plant based jerky marinaded for 12 hours in our signature house made teriyaki sauce. Hints of caramelized garlic, ginger, and chili, then topped with black & white sesame seeds, this delivers a flavor explosion you have never experienced in any other jerky.
Shipping Fresh Jerky ... on Tuesday's
For nationwide shipment, we ask that you place your order by Thursday @ noon PST. Your order will ship on the following Tuesday. If you miss the Thursday cut off, your order will be shipped a week from the following Tuesday. Shipping this way allows us to make sure you are receiving the freshest tasting jerky possible.
The Ingredients
Textured vegetable protein (soybean protein, starch, wheat protein, vegetarian fiber, soybean oil), tamari soy sauce (water, soybeans, salt, sugar, alcohol, vinegar, lactic acid) refined coconut oil, raw agave, soybean oil, white sugar, brown sugar, sesame seeds, sesame oil, ginger oil, dried onion, apple cider vinegar, garlic, red pepper flakes, tartaric acid, ginger, cornstarch, white distilled vinegar, garlic powder, gochugaru pepper flakes, onion powder, organic ginger root powder.
Contains: Wheat & Soy
The Facts
4 servings per container
Serving size 1oz (28g)
Servings Amount %DV *
* The Daily Value (DV) tells you how much a nutrient in a serving of food contributes to a daily diet. 2,000 calories a day is used for general nutrition advice.
Customer Reviews
01/04/2021
Danielle H.
United States
Our Favorite Jerky!
We run a farm animal sanctuary and are always on the lookout for amazing jerky to share with our supporters who love cows and pigs and don't want to eat them. Jerkless Jerky is by far the best we've had! Its incredible taste and texture are going to revolutionize the plant-based jerky market and make a positive impact for animals.
01/03/2021
Christine R.
United States
Deliciousness
Really great texture and flavor! I liked it better after refrigerating because the juice seemed to soak in more. I'll definitely be buying again.
12/31/2020
Rex M.
United States
Very tasty
Very good and tasty
12/27/2020
Elyse F.
United States
My first bag was gone in 2 days.
ORDER EXTRA. YOU WILL EAT IT ALL.
12/22/2020
De C.
United States
Teriyaki Agave Chili
Delicious, perfect snack during this busy holiday season.
12/20/2020
Bryan B.
United States
I Can't Believe It's NOT Meat!!
The product was stupendous!! You honestly could not tell it wasn't meat!! The family had the entire bag emptied within the first few minutes of opening it. The Customer service communicated very well on the delivery date, and keeping us informed about time table. I highly recommend Jerkless Jerky to anyone and everyone.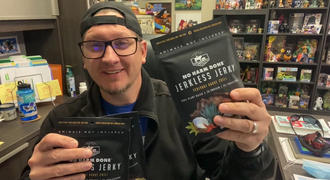 12/20/2020
Shanshan H.
United States
So good!
We got four bags and devoured it in one day. The taste and texture are both incredible!
12/20/2020
Daniel E.
United States
Hangry partner approved!
This stuff was fantastic. It was so delicious it could probably be devoured by 1 person in a sitting. The texture is great; the flavor is amazing. No animals harmed. More flavors, please!