Teriyaki Pineapple
Sale price Price $11.99 Regular price $11.99
100% Non-GMO plant based jerky marinaded for 12 hours in our signature house made teriyaki sauce. Hints of lime and caramelized pineapple gives a sweet and savory combo.
Shipping Fresh Jerky ... on Tuesday's
For nationwide shipment, we ask that you place your order by Thursday @ noon PST. Your order will ship on the following Tuesday. If you miss the Thursday cut off, your order will be shipped a week from the following Tuesday. Shipping this way allows us to make sure you are receiving the freshest tasting jerky possible.
The Ingredients
Textured vegetable protein (soybean protein, starch, wheat protein, vegetarian fiber, soybean oil), tamari soy sauce (water, soybeans, salt, sugar, alcohol, vinegar, lactic acid) refined coconut oil, dried pineapple (pineapple, sugar, citric acid) white sugar, brown sugar, raw agave, sesame seeds, sesame oil, soybean oil, lime juice, ginger oil, dried onion, apple cider vinegar, garlic, tartaric acid, ginger, cornstarch, white distilled vinegar, garlic powder, onion powder, organic ginger root powder.
Contains: Wheat & Soy
The Facts
4 servings per container
Serving size 1oz (28g)
Servings Amount %DV *
* The Daily Value (DV) tells you how much a nutrient in a serving of food contributes to a daily diet. 2,000 calories a day is used for general nutrition advice.
Customer Reviews
Best Vegan Jerky I've Found!
I've been vegetarian for 10+ years and am always looking for a good jerky replacement but never found one I loved until now! Genuinly super happy with this product and already recommended it to all my vegetarian/vegan friends.
05/14/2021
Gloria B.

United States
So good!
Best vegan jerky I've had!
05/02/2021
Nabeela S.

United States
No Harm Done/jerkless jerkey
Excellent. The combination of sweet and salty makes it a very satisfying snack.
04/20/2021
Kevin A.

United States
Love this product
Amazing jerky! Arrived fresh and well packaged. Great company!
03/29/2021
Lea U.

United States
10 outta 10 would recommend
Let's start by saying that a favorite snack of mine growing up was beef jerky I would make with my pops before we headed out into the backcountry. I happily became vegetarian 20 years ago and gave up on that being a flavor or texture I'd get to enjoy again- until nowwww! Thanks for creating a delicious plant based replacement!! The flavor and texture are on point and so dang good.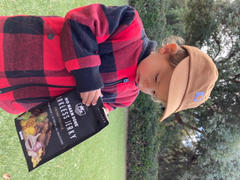 03/16/2021
Harry S.

United States
Review
Excellent!!! Great snack
03/09/2021
Lindsay o.

United States
Buy it now!
This is hands down the best jerky I've ever had. You will not be disappointed!
03/09/2021
Gregory P.

United States
So good!
Both flavors of this jerky are so good! highly recommend - i bought some for my parents!
03/09/2021
Nancy L.

United States
Amazing! Delish!
Your jerky was so good. The same day it was delivered my husband came home with another brand which states on the bag how tender it is. There was no comparison. That brand was a hard tasteless pellet. I'm hooked on yours
03/09/2021
Derrick D.

United States
Loved it
Loved the taste!
02/18/2021
Manuel M.

United States
Jerkless Jerky
Very good. The Agave Chili is my favorite.
02/16/2021
Janene E.

United States
Teriyaki Pineapple! Yummm. My favorite!
I love the Teriyaki Pinapple Jerkless Jerky!
02/02/2021
Taylor M.

United States
The Best!
They have perfected Vegan Jerky. 5 stars across the board.
01/26/2021
David B.

United States
01/26/2021
Eric M.

United States
Exceeded Expectations
Daughter and I went vegan for a month and it has been difficult finding snack options to provide additional variety in our diet. Unfortunately the packs we ordered only lasted a day in our house as the other "tenants" also enjoyed our new find.
01/20/2021
Kevin P.

United States
Top notch plant based jerkey
Flavor and texture is amazing! Will definitely go back for seconds, thirds, fourths.....